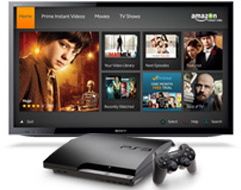 Sony PlayStation 3 users now are plugged into Amazon's Instant Video service.
Sony, ever at war with Microsoft and its Xbox 360 — immediately claimed a console game exclusive for the Amazon app.
The online retailer's streaming service already is widely available on a variety of home entertainment machines, including TVs and Blu-ray players.
PS3 and the Xbox 360 already offer similar lineups of streaming video services, including Netflix, Hulu Plus and Vudu.
Amazon Prime rents and sells premium fare such as studio films and top TV shows. That catalog numbers 120,000 titles, Amazon says. It also offers an assortment of free content (17,000 titles).
"Since launching a year ago, we've more than tripled our library," Amazon said while promoting the Sony hookup April 3.
Amazon Prime requires a once-a-year payment of $79 that also covers "free" two-day shipping (no minimum order).
View detail and learn about the PS3-Amazon activation process.