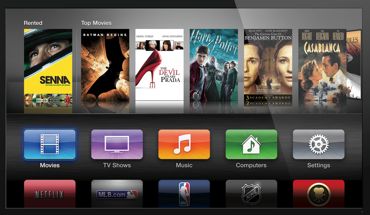 Apple made its move into 1080p high definition video, unveiling a third-generation version of its TV black box and true HD content from the iTunes store.
The third-generation Apple TV box, available March 16, upgrades to a single-core A5 chip. The new colorful, icon-driven interface immediately rolled out to current Apple TV owners; the 1080p-supported version of iTunes (10.6) went live as well.
While second-generation Apple TV owners have the new interface, they'll need the new box ($99) in order to receive and play 1080p films and TV shows.
Apple's move to state-of-the-industry video supports long-standing reports that the company is preparing a branded television set that incorporates all of its media — although there was no official discussion Wednesday of any such move.
The new Apple TV user interface is in tune with Apple's other IOS-driven designs. Apple called it "a simpler, refined user interface."
While the interface looks terrific, the black box looks the same, at least on the outside.
Netflix received primo play in the upgrade, with new customers able to sign up for the streaming service on Apple TV and pay via iTunes. A Netflix button is prominent on the new home screen.
Netflix promised "thousands of hours of great movies and television streaming on Netflix in 1080p high definition and with room-filling Dolby Digital 5.1 audio."
Vimeo, YouTube and Flickr also figured in the Apple TV promotion, along with the major pro sports. No new content providers (such as Hulu Plus) were announced.
iTunes Store customers can access purchased movies and TV shows from iCloud.
Apple TV allows users to control the resolution of the films and TV shows they download, allowing for slower or throttled bandwidth set-ups.
Tech specs: The new device supports H.264 video up to 1080p, 30 frames per second; MPEG-4 video up to 2.5 Mbps, 640 by 480 pixels; and Motion JPEG (M-JPEG) up to 35 Mbps, 1280 by 720 pixels. Audio: HE-AAC (V1), AAC (16 to 320 Kbps), protected AAC (from iTunes Store), MP3 (16 to 320 Kbps), MP3 VBR, Audible (formats 2, 3, and 4), Apple Lossless, AIFF, and WAV; Dolby Digital 5.1 pass-through.
The Apple TV news came on the same day as the new iPad announcement.