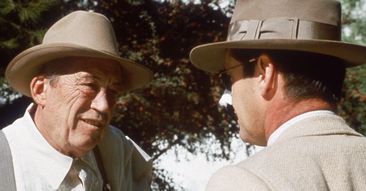 "Chinatown" finally is flowing to Blu-ray, with Paramount setting an April 3 release for Roman Polanski's neo-noir classic.
The Blu-ray features "a new high definition transfer" along with 2 1/2 hours of extras, Paramount Home Entertainment said.
The previous two DVD versions — from 2007 and 2009 — looked quite good, so "Chinatown" fans probably are in for a treat in HD. Audio is English 5.1 Dolby TrueHD.
The bonus features mirror those found on the title's "Centennial Collection" DVD release of fall 2009. They include a feature commentary with writer Robert Towne and fan David Fincher; an HD version of the three-part, feature-length "Water and Power" documentary from 2009; the solid Laurent Bouzereau documentary of 2007 about the making of "Chinatown" and its legacy; and a half-hour appreciation from various filmmakers (also a rerun).
Towne, Polanski and star Jack Nicholson all rolled out for the making-of, but Faye Dunaway did not.
Towne appears on camera in the "Water and Power" docu. The theatrical trailer will be rendered in HD.
The Blu-ray's "sport packaging" includes a version of the original "Chinatown" poster and a booklet, Paramount said.