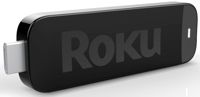 Roku aims to ditch the black box with its new Streaming Stick technology for Smart TVs.
The Roku Streaming Stick is about the same size as a USB flash drive, the company says. It has built-in wi-fi, a processor, memory and assorted software designed to import the Roku channel lineup, along with the usual-suspect services such as Netflix and Hulu Plus.
Roku should get busy making sticks, since it sold about 1.5 million of its regular players in 2011. (Roku units aren't that big to begin with.) The sticks will be available "later this year" at price points between $50 to $100, Roku's Anthony Wood says.
Don't start making room just yet: The sticks work on the new mobile high-definition link (MHL) standard, an A/V standard designed to link portable electronics devices with TVs via HDMi ports. Samsung and Toshiba have some MHL-ready TVs in the market, but they're otherwise scarce.
LG Electronics unveiled a somewhat similar product last year, a "SmartTV Upgrader" box. The company is billed the small Upgrader box as "an affordable option for consumers to adopt" streaming video and interactive TV technologies.