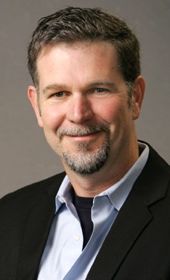 Netflix celebrated the launch of its streaming video service in the United Kingdom as shareholders shared in the fun with a U.S. stock pop that's bringing its price near triple figures again.
The long-in-the-works U.K. and Ireland streaming service costs 5.99 pounds (6.99 Euros or about $9). Its closest rival will be Amazon's Lovefilm, which broke out a lower-cost Internet streaming-video package as Netflix U.K. bowed.
Both services have content deals with the BBC. Lovefilm's DVD-by-mail and streaming service has about 2 million subscribers across Europe.
Early reviews were coming in, with one Irish tech writer saying: "If you're looking for a steady diet of avant garde film and cult classics you will be disappointed, but low- to middle- brows will have enough to justify the subscription price."
Netflix CEO Reed Hastings said Netflix would be an attractive alternative to BSkyB's pricier mainstream TV services.
Netflix, which suffered a 60 percent drop in its stock price last summer, made its 2012 comeback in part because of comments from stock analysts that the company was moving out of its crisis period and speculation about a buyout offer. Netflix reports fourth-quarter earnings Jan. 25.
Hedge fund manager Whitney Tilson told CNBC he thought Netflix could "go crazy to the upside."
Netflix also cheered investors with a report that its subscribers gobbled up more than 2 billion hours' worth of movie and TV fare in Q4.
All that activity had Motley Fool playfully speculating the embattled Hastings could be "either a popular candidate for 2012 CEO of the Year or a slam dunk as Comeback CEO of the Year." Netflix stock has a long way to go, however, as it hit a high of $305 in July. It neared $100 on Jan. 9.