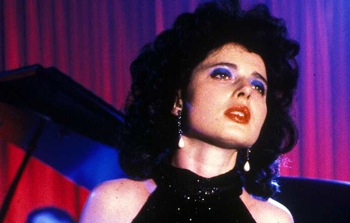 Those lost and deleted scenes from "Blue Velvet" have been found, and for better or worse they're on display as extra features on MGM's Blu-ray debut of this touchstone of American surrealism.
While mostly interesting, the 50 minutes of deleted scenes reveal no artistic oversights, no need for the fabled 4-hour director's cut. David Lynch's razor cut into all the right places.
Twenty-five years on, it's a bit disorienting to look back at the cultural firestorm sparked by "Blue Velvet." While the movie hasn't lost its ability to disorient and unsettle, it is nonetheless a film that wouldn't seem too out of place these days as an HBO or AMC original.
But in 1986 film critics went into love-it-or-hate-it mode. Quite a few were revolted by what they saw. Giving an emotional thumbs-down was Roger Ebert, then working the aisle seats with Gene Siskel.
Ebert found "Blue Velvet" "truly unfair to its actors," singling out the treatment of film newcomer Isabella Rossellini. Seen fully nude and battered, she was "humiliated as few actresses have ever been" by a director, a visibly upset Ebert warned his TV audience on "At the Movies." (Perhaps explaining why he's still dodging "Salo.")
Rossellini, however, tells quite a different story in the outstanding feature-length 2002 documentary, "Mysteries of Love," included again in MGM's new Blu-ray rerelease of the film.
The model-turned-actress speaks proudly of her own decision to play the haunted nightclub singer Dorothy not as a sex symbol but as a "broken doll," calling upon the twisted images of Francis Bacon as inspiration. As for Lynch's alleged abuse, she insists the director was a gentle guiding soul, quite "the opposite of a misogynist."
The cast's affection for Lynch is apparent in the docu's interviews with the quartet of stars — Rossellini, Kyle MacLachlan, Dennis Hopper and Laura Dern.
The creator of "Eraserhead," "Twin Peaks" and "Mulholland Drive" is actually a "boy scout," they say, who uses expressions like "peachy keen" and takes meetings over shakes at Bob's Big Boy. But then there are those weekend photo projects with dead chickens …
Butchered by pan-and-scan in most of its video incarnations, "Blue Velvet" was finally made right in 2002, as Lynch oversaw a widescreen version for the MGM special-edition DVD. For MGM's "Blue Velvet: 25th Anniversary" Blu-ray, he approved the transfer and color correction as well.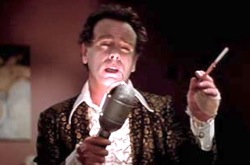 Lynch's artistic images are markedly enhanced by their journey through the high-def domain. Some of the upgrades are on display right away: the title images of blue velvet and the color-saturated opening shot of roses against a white fence and a shiny red firetruck. (Grain is noticeable but not distracting.) These opening visuals are tough to top, but overall the movie looks great and sounds much better than on the 2002 DVD.
The 5.1 DTS-HD Master Audio does little with the living room soundstage, but quite a bit for the music. From Angelo Badalamenti's lush (and ironic) score to Dean Jones' showstopping (mimicked) performance of Roy Orbison's "In Dreams" to Rossellini's game attempts at "Blue Velvet," the lossless audio heightens the drama all around.
Dialog is crisp and clear. The subtitles take too many liberties with the script.
The deleted scenes, reportedly recut by Lynch, begin with a bang — an extension of the cruel "joy ride," in which Hopper's character abuses a man and woman on top of a pool table while a woman with illuminated nipples looks on. Twisted stuff.
Many of the scenes elaborate on MacLachlan's character, starting with the phone call telling him that he has to leave college due to his dad's heart attack. Then there's a mini-drama with his jerk of a college sweetheart. And more about the relationship between him and Dern's sassy high school girl. Bottom line: Lynch wisely cut out the scenes with MacLachlan that don't pertain to the movie's central mystery. In doing so, the character becomes far more mysterious and interesting (and less irritating).
Another curious bit looks straight out of "Twin Peaks": MacLachlan and Dern watch a stage show at the Slow Club in which a dog eats his dinner out of a bowl (applause), followed by a comic and guitarist who try to explain the chicken-and-egg thing (boo).
(My pal Glenn Erickson has a handle on the story behind "Blue Velvet" deleted scenes.)
The lengthy "Mysteries" documentary by making-of specialist Jeffrey Schwarz — ported over from the 2002 DVD — utilizes grainy 1987 footage of Lynch talking with reporters but no contemporary shots of the press-shy director. (Interviews with cast and crew were new at the time.) Lynch's low-light segments look like clips from a dated crime docu, giving the enterprise an odd patina that he probably appreciates.
Lynch cops to the similarities between his film's image of ants on a severed ear and the hand in "Un Chien Andalou," but says he'd seen little of Luis Bunuel's work. Of the sinister elements, he says, "I see confusion and darkness and distortions, and it's kind of fascinating to me."
Hopper, just out of rehab when cast, recalls being advised not to take the now-famous role of an amyl nitrate-huffing sadist because the "character could not be redeemed." He regrets not following Lynch's original vision of the character huffing helium and speaking in a Donald Duck voice while savaging those around him: "What a strange, sinister character that would have been," Hopper muses.
Dern, who was cast without reading — just on Lynch's hunch — when she was 18, says of the director: "He definitely wants to create a world where you never know where you are. Because that's the world he exists in."
MacLachlan, who had just worked with Lynch on the cult favorite "Dune," remembers being freaked out by the "Blue Velvet" script, but taking the part of the movie's young hero because he had a "desire to go into that world." He tells of the cast and crew feeling like "castaways" on location in Wilmington, N.C.
Producer Fred Caruso maintains it's no accident that MacLachlan — who went on to star in TV's "Twin Peaks" — looks, acts and dresses like Lynch. Caruso also recalls how Lynch kept final cut on "Blue Velvet" in a hush-hush deal with distributor-backer Dino De Laurentiis. The stars basically worked for scale to get the film made, never dreaming the twisted tale would have popular appeal.
The Blu-ray also includes the "At the Movies" review clip with Ebert — Siskel, for the record, found the film "shocking but mesmerizing"; a few fun outtakes; some detail on MacLachlan's chicken walk and the weird robin featured at movie's end; as well as a highly watchable trailer that leans on astonished critics' quotes.
Check out Glenn Abel on Google+