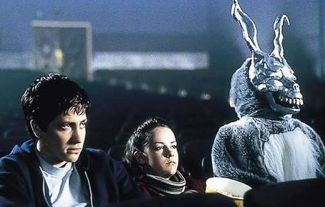 "The dreams in which I'm dying are the best I've ever had," the man sings at the end of "Donnie Darko."
It's an old Tears for Fears number, one of several major intersections of lyrics and storyline in the film — guaranteed chills for admirers of this odd and addictive film.
The 2001 movie bombed, but it wasn't long before a "Rocky Horror"-like cult attached itself to alienated teen Donnie (Jake Gyllenhaal) and his strange friend, a man in a 6-foot bunny suit. Critics and many movie-goers had problems with the "Darko's" muddled metaphysics.
"I wasn't trying to really baffle people," writer-director Richard Kelly said later. "I was just trying to tell this big elaborate science fiction story." Kelly wasn't sure he'd ever have the chance to clear up matters in a director's cut, but distributor Newmarket agreed, wanting to capitalize on the "Darko" cult.
And so in 2005 came "Donnie Darko: The Director's Cut," which had a brief theatrical run before Fox has released it on a double-disc DVD. To the studio's credit, and to cultists' delight, none of the extras were ported over from the original 2003 DVD. The extended film and bonus features create an alternate home video experience — totally in the spirit of "Darko."
High-definition editions of both versions followed. In late July 2011, Fox Home Entertainment combined the films in one Blu-ray "Donnie Darko: 10th Anniversary Edition." That four-disc set added nothing new to the images, audio or extras — making it a skip for current Blu-ray owners of the titles but a convenience buy for those upgrading from DVD.
There is actually only one Blu-ray in the new set, with both versions of "Darko" in HD and three commentaries. Two more discs have the combined extras in standard definition as well as another DVD copy of the theatrical film just for grins. The fourth disc holds a digital copy of the director's cut.
Which version to watch? Start with the theatrical version and then venture into the second if your curiosity holds.
"I'm just as proud of the first cut as of this one," Kelly says, admitting that the amount of footage he had to edit out of the original was "ultimately upsetting." He likens the second film to a remixed record. In the digital age, "There can hopefully be two versions of a film that exist."
Wiseguy director Kevin Smith, who guests on Kelly's commentary for the director's cut, says he figures the "Darko" phenomenon this way: It's the "you-gotta-see-this-factor. Everyone feels like they discovered this movie."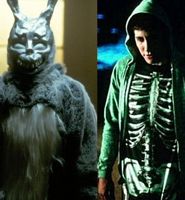 The plot isn't really explainable in brief, but here goes: Donnie, a decent but emotionally troubled teen, enters a "tangent universe" that parallels our own. A jet engine crashes into his room. Forces from the future use Donnie to try to save the universe from destruction in 28 days, on Halloween 1988. Their messenger is Frank, the bunny with the creepy mask.
"Why do you wear that stupid bunny suit?" Donnie asks. "Why do you wear that stupid man suit?" Frank responds.
The new cut adds pages from a time-travel book as "a Cliff's Notes primer for the movie."
Smith admits to being lost while watching the original. "What are you, Kubrick?" he kids Kelly at one point.
Despite its weirdness, at heart "Darko" is a traditional teen crisis movie, with the usual high school archetypes. Kelly wrote the script at age 23, with fresh memories of his teens and the music of the '80s.
"It's like a John Hughes movie of the 21st century," Smith says.
The "Clerks" director and Kelly keep each other amused on that commentary, with Smith occasionally playing the interviewer. (He'd be a talented journalist, it seems.) They set off on some entertaining tangents of their own. More commentators should bring along their smart friends.
The director took deleted scenes from the first DVD's extras and returned them to the film. He added "comic book" visual elements like a giant eyeball. The audio was reimagined to heighten the supernatural vibe. A couple of songs were returned to their rightful positions, and an INXS tune now opens the film.
The loseless audio (5.1 DTS-HD Master Audio) on both films is the same as the previous Blu-rays but proves a dramatic, subwoofer-smoking upgrade from the DVDs. The letterboxed images (2.35:1) aren't all that much an upgrade from the other Blu-rays — reproduction is sometimes soft and uninspiring, as on the original DVDs.
The hourlong "production diary" is a collection of on-location footage, with optional voice-over from director of photography Steven Poster ("Blade Runner"). Donnie (Gyllenhaal) and his school-bully tormentor appear to be pals in real life. Producer Drew Barrymore, who made the project happen, lights up the set by her presence (she plays a hip teacher).
"Donnie is the embodiment of Jesus," a fan explains in the British docu "They Made Me Do It: The Cult of Donnie Darko." She's being interviewed by a man in a cheap bunny suit. The piece tells how "Darko" had its first successes in London, where marketers built an art show around the iconic bunny and plastered the city with hand-colored stickers featuring its demonic mask. "You guys got it immediately," a grateful Kelly tells his U.K. fans.
The highly interactive "Darko" website found the "No. 1 fan" via a home-movie contest. In his short film, the beefy zealot shows off his "Darko"-infested bedroom and kisses Kelly, who is understandably alarmed.
There also are a good 8-minute storyboard-to-film segment and blazing trailer that makes you want to see it all again.
Check out Glenn Abel on Google+