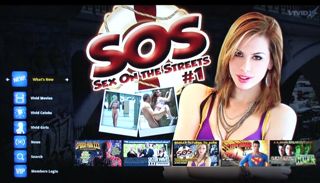 Adult movie fanciers with Google TV set-top devices need no longer stalk porn on the Internet — hardcore HD films are now streaming into their living rooms.
L.A.'s Vivid Entertainment has launched an app for Google TV that streams adult fare in high definition. It's billed as a 24/7 Internet TV station, but looks like a typical streaming video set-up.
The interface is in the same vein as menus for Hulu and Netflix. Viewers can choose individual movies, check out celebrity sex tapes or get an up-close look at models.
Vivid is known for fairly ambitious adult movies, with themes, plots and, um, acting. Some are spoofs, such as Vivid's takes on Spider-man, Superman and the Hulk (presumably protected under parody laws).
Vivid said the dedicated channel "is a central part of our making Vivid available everywhere concept." Subscribers to the company's web site now can access Vivid for Google TV at no additional cost. A month runs about $34 and a year is just under $100.
Viewers must be at least 18 years old, Vivid said in a press release about the porn app.
"We spent more than a year developing a code base for a robust, standalone Internet-TV channel with a friendly interface for the consumer that can be used with the current Google TV technology and other Internet protocol presentation methods now in development," said Vivid chief Steven Hirsch.