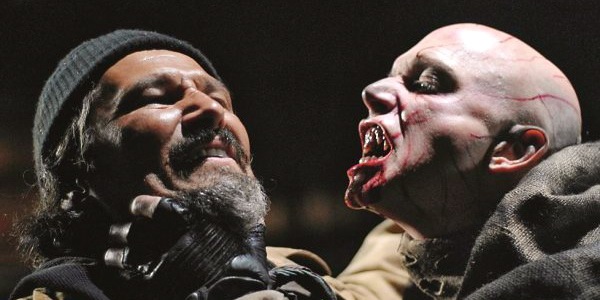 There's a certain charm to watching scratchy old horror movies on Halloween, but when the going gets weird you gotta go Blu-ray. Ghosts, monsters, zombies and the rest of the gang want to look their best for the big fright night — that means razor-sharp high definition images accompanied by blood-curdling lossless audio.
Here are some of Screen & Stream's Blu-ray favorites for Halloween.

Stake Land (Dark Sky Films): Post-apocalyptic movies overrun by the undead almost always fail to live up to their incredible premise, but "Stake Land" delivers on multiple fronts. It's intelligent, plenty gory and borderline humanistic. Nothing elegant about these vampires — they're reminiscent of the brain-dead but fast-moving zombies from "28 Weeks Later." Our heroes are the seasoned vampire slayer Mister (pictured above) and his teen sidekick. "Stake Land" was a low-budget production; the film limped into only a few theaters. Still, the Blu-ray looks and sounds quite good. Dialog (and growls and screams) come through loud and clear in the immersive 5.1 mix. Extra features are made with care, reflecting the movie's tone and intelligence.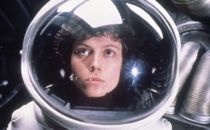 Alien (Fox) — Ripley's believe it or not: The high-definition version of "Alien" makes Ridley Scott's 1979 classic look like it was released yesterday. Less grain, more detail, gripping contrasts. The DTS-HD master audio mix wails, with obsessive attention to ambient detail (drip, drip …). Significant alien activity comes from all corners of the viewing room via the active surround encoding. A lot of fans prefer "Aliens" (also on Blu-ray), which rocks to exquisite excess, but the original movie remains queen of the sci-fi horror (sub)genre. Fox released both titles this year on budget Blu-rays, following up on the monstrously cool six-disc HD box set of last fall.
Let the Right One In (Magnolia): A singular achievement in high-end horror. Director Tomas Alfredson turns his cameras on two 12-year-olds, one a sad boy, the other a sad girlish vampire. They live in a crappy part of Stockholm, where life sucks and locals are starting to turn up drained of their blood. Among the best horror movies of the new century — if not the best. Get the Blu-ray, which uses the preferred translation in English subtitles, and don't confuse the original with the respectable but inferior U.S. remake.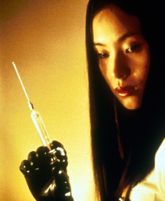 Audition (Shout!): Japanese director Takashi Miike's masterpiece, renowned for its mixture of mind-bending horror and lonely-hearts drama. The Shout! Factory Blu-ray features an intro and a new feature-length commentary from the bemused director and his screenwriter. "You may regret watching it," Miike humbly warns viewers. Fans wanting to go kiri-kiri-kiri (deeper-deeper-deeper) into the film get more than an hour's worth of cast interviews and a booklet essay.) The tale is of a lonely widower who uses a movie audition as a ruse for meeting women. He's soon obsessed with a long-haired beauty who comes with plenty of baggage — stuffed full of instruments of torture. Essential, compelling, sick, heartbreaking … a modern classic of horror.
An American Werewolf in London (Universal): The studio that first brought us the werewolf does a makeover on Jon Landis' horror-comedy gem from 1981. This was among the last of the makeup horror movies, done by effects wiz Rick Baker — the transformation scene is his Oscar-winning masterpiece. "American Werewolf" hasn't aged a bit: the rotting corpse guy is still a hoot, the violence has plenty of kick and Jenny Agutter was never more luminous. Plenty of extras, including an up-to-date feature-length documentary. The Blu-ray images look quite good considering the original's softness and grain. The super-crisp soundtrack — filled with all those lunar songs like "Bad Moon Rising" — will have you howling along. "Moondance" has never sounded better.
The Nightmare Before Christmas (Disney) — Thrill the big kids and terrorize the tots with this truly fine Blu-ray. Gorgeous animated visuals, this time out in anamorphic widescreen, but the star of the show on Blu-ray is the state-of-the art audio. All 7.1 channels of Dolby TruHD encircle the video room, with bold playful signals. Heard this way, Danny Elfman's score can make your heart race. Commentary from Tim Burton and Elfman. The disc includes "Frankenweenie," of course.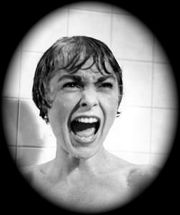 Psycho (Universal) — The mother of all horror movies got all dressed up for its 50th birthday in a Blu-ray edition with a chilling 5.1 audio remix. Generous selection of extra features about Alfred Hitchcock's black and white shocker. The excellent hour-and-a-half documentary "The Making of Psycho" returns from the 1997 (and 2008) DVD releases, bolstered by the so-so short "In the Master's Shadow: Hitchcock's Legacy" and a highly listenable commentary from Hitch expert Stephen Rebello. Lather up for the shower scene footage with and without music, and the Saul Bass storyboards for that 3-minute-18-second roller coaster ride to Hollywood greatness.
Dark City (New Line): Like "Blade Runner," this nightmarish bit of science fiction debuted in theaters with a studio-mandated voice-over intended to help viewers make sense of the film. Even horror-friendly New Line didn't know what to make of Alex Proyas' tale of a noir city reinvented nightly by alien scientists who act as gods. Proyas finally gets to show his cult classic as it was intended, in a director's cut that adds about 12 minutes. On Blu-ray, the renovated "Dark City" is a thing of terrible beauty. Take it along on your next trip to the beach.
Repulsion (Criterion Collection): Madness, murder and a breathtakingly young Catherine Deneuve drive this psychological horror movie from Roman Polanski. Criterion's Blu-ray version delivers exquisite black-and-white images, all the better to capture the awful goings-on in the apartment of a young French woman living in London. "Repulsion" characterizes the anti-heroine's response to men, but get a load of the famous rotting rabbit on a dinner plate that mirrors her deterioration into madness.

Underworld Trilogy (Sony): "Underworld" has been a satisfying modern series in the Hammer spirit. And "Underworld Awakening" rises in January. With Kate Beckinsale. Let's hope it returns the "Underworld" world to the glory days of the first two installments. All three of the original movies look terrific on Blu-ray. Audio on this set is solid, sometimes remarkable.