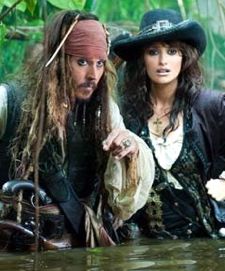 Video on demand service Vudu has broken the streaming video surround-sound barrier, debuting a 7.1 Dolby version of "Pirates of the Caribbean: On Stranger Tides."
More than 30 films with 7.1 sound are coming to Vudu, according to provider Dolby Laboratories. The online streaming audio format is called Dolby Digital Plus 7.1 — "a sophisticated, bandwidth-efficient audio system," Dolby says.
True high-quality surround audio is a mostly unchartered frontier for streaming video, along with encoded subtitles for the deaf and hard of hearing. The 7.1 format has not yet premiered on broadcast TV.
"We're thrilled to announce that the first entertainment content for an over-the-top (broadband) or broadcast environment has been released in 7.1-channel surround sound," said John Couling of Dolby Labs.
Dolby Digital Plus 7.1 audio is offered via many Blu-ray players, HDTVs and set-top boxes.