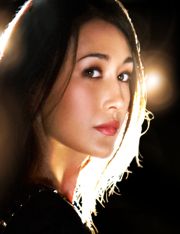 Nine series from the youthful CW network have been licensed to Netflix, including "Gossip Girl" and "The Vampire Diaries."
The four-year deal with CBS and Warner Bros. — co-owners of The CW — reportedly is valued at $1 billion. The pact is exclusive in the online streaming space since it includes access to complete past seasons.
The pact also brings to Netflix the new CW shows "Ringer," "Hart of Dixie" and "The Secret Circle" as well as "90210," "Supernatural," "Nikita" (pictured) and "One Tree Hill."
Previous seasons of "The Vampire Diaries," "Gossip Girl," "One Tree Hill" and "Nikita" will be available Saturday; "Supernatural" and "90210" begin in January. This season's shows will debut on Netflix in fall 2012. Next season the cycle repeats.
The announcement came in a week that saw Netflix stock recover somewhat from its dramatic price plunge.
The deal fits the content model often cited by Netflix CEO Reed Hastings: Viewers can catch complete back seasons on Netflix and tune in for the new episodes on The CW. Win-win for fans, Netflix and The CW, various executives said.
"This is programming for the on-demand generation and we hope this agreement deepens the relationships viewers already have with these powerful entertainment brands," Netflix content chief Ted Sarandos said in a release announcing the CW-Netflix deal.
The CW president Mark Pedowitz said: "Not only will we be able to recruit new viewers for our shows through the powerful reach of Netflix, but it also makes the CW an even more attractive option to the creative community."
The New York Times points out that the CW shows aren't likely candidates for big-money TV syndication deals anyway, although the content owners are free to try under the Netflix pact.
Where traditional network affiliates may not see the value in The CW's scripted shows, Netflix sees plenty of synergies — online video watchers often tend to be in the same young adult group that gobbles up "Gossip Girl"