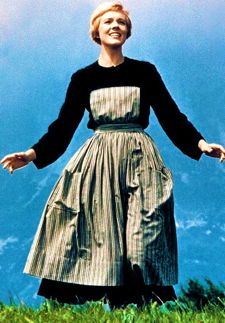 The hills are alive with "The Sound of Music" — and a dusting of serious grain. That's the good and bad news about the long-awaited Blu-ray debut of the Julie Andrews classic.
Previous home video versions of the 1965 musical failed to truly dazzle due to the source materials' age-related defects. Fox's new Blu-ray eliminates most of the scratches, flashing and speckling that dogged the DVDs.
Only the persistent grain remains to remind fans that we're now on the "45th Anniversary Edition" of Robert Wise's musical. (Fox's restoration gurus no doubt decided to keep the grain in fear of over-processing the images.) All things considered, the movie looks quite good.
The 7.1 DTS-HD sound (yes, 7.1) sweetens every note, beginning with the title tune, played out in the iconic hilltop scene in which we meet Andrews, twirling her way across the Swiss landscape. Breathtaking.
Extras are plentiful, almost almost all legacy. Interactivity comes with the new "Your Favorite Things" option, which serves up trivia and sing-alongs. Two "Restoring a Classic" shorts tell how the original 70mm negative was resurrected for this fine HD disc. Director Robert Wise's feature-length commentary comes from the 2000 DVD. There's also one of those group commentaries with the participants' comments patched together: Julie Andrews, Christopher Plummer and a von Trapp son headline the talk.
Fox released the 45th anniversary edition of "The Sound of Music" in several Blu-ray and DVD packages. The fans' choice is a limited edition box set but most folks will get the three-disc Blu-ray/DVD set. There's also a Blu-ray/DVD set in DVD packaging, for unknown reasons.
Check out Glenn Abel on Google+