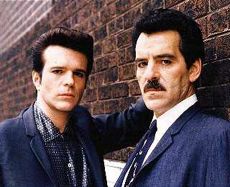 Michael Mann's gritty, compelling and sometimes ridiculous "Crime Story" was the producer-director's 1986 follow-up to "Miami Vice."
Set in pre-Miranda 1963, the NBC show followed Lt. Mike Torello (Dennis Farina) as he led a major-crimes unit specializing in making the Windy City too hot for hip gangster Ray Luca (Anthony Denison). In season 2, the action moved to Las Vegas, where Mann's love of the slick ran rampant.
Image Entertainment has booked "Crime Story: The Complete Series" for Nov. 15. DVD only, alas. It's billed as a 25th anniversary edition. Three discs. Audio is mono.
The DVD set (retail $30) is worth owning if only for the show's 21-episode first season, stretching from the sizzling two-hour pilot directed by Abel Ferrara to the ridiculous A-bomb season finale. (In a bizarre case of a TV show committing suicide, the producers killed off key characters because they mistakenly believed the series had been canceled.)
"Crime Story" influenced generations of TV cops-and-gangsters series, most obviously "The Sopranos." Martin Scorsese reportedly drew on season 2 for his "Casino."
Talent on "Crime Story" was top-notch, from the writers to the supporting cast to the music men (Al Kooper and Todd Rundgren). The show's opening never failed to deliver, with its killer theme song, "Runaway," performed and revised by Del Shannon.
Guest stars in season 1 included Julia Roberts, Pam Grier, Ving Rhames, Gary Sinise, Vincent Gallo, David Caruso, Ray Sharkey and even Miles Davis.
In season 2, there were Stanley Tucci, Michael Madsen, Michael J. Pollard, Billy Zane, David Soul, Vincent Gallo, David Hyde Pierce and Dexter Gordon.
Anchor Bay (Image) previously released separate DVD sets of the first two seasons. They were discontinued last year. Audio and video were OK. Those DVD releases made some subs in the original music, probably repeated this go-round.