Film directors have lionized killers as long as there has been film.
With time comes absolution and insulation for directors who discover the misunderstood romantic heroes inside serial murderers. No better example than "Bonnie and Clyde."
In the past three years we've seen exhaustive — and excellent — works on revolutionary Che Guevara, the French gangster Jacques Mesrine, the career terrorist Carlos the Jackal and Germany's radical left-wing Baader-Meinhof Gang — coldblooded killers of innocents one and all.
With the exception of "Che," made by the American Steven Soderbergh, these are European films that also served as TV miniseries. (And "Che's" financing came from France, mostly.) They all appeared in the U.S. as feature films, to limited boxoffice. "Che," the "Mesrine" movies and "Carlos" all required their audiences to attend multiple screenings.
These fascinating films all share a commitment to an objective documentary approach. True, but also a lie. These are all action movies, and their audiences are not rooting for the flat-footed authorities. By making the subjects of the thrillers cool, intelligent, stylish and (somehow) morally ambiguous, the filmmakers become accomplices in the revisionist cultural elevation of these murderers.
"If anyone ever makes a movie about Al Qaeda, 'The Baader Meinhof Complex' might serve as a useful model," the New York Times said in its review, foreshadowing the inevitable. What will be the waiting period for Osama Bin Laden, action movie antihero?
These modern filmmakers didn't invent radical chic — in the U.S., that was all the rage for a year or two in the late 1960s — and for much longer in Western Europe, where political stances became identity. What these movies make clear, however, is that the world remains unsure of just how bad these bad guys are.
http://amzn.to/nULTgL
The Criterion Collection has just released Olivier Assayas' "Carlos" in Blu-ray and DVD editions. The arthouse label's presentation brings to mind its outstanding work with Soderbergh's 4 1/2-hour Che Guevara biopic on Blu-ray.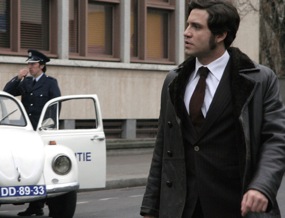 The "Carlos" supplementary features help bring the film and its titular terrorist into focus — and provide needed balance. This kind of thoughtful work is what makes Criterion Criterion.
The must-see extra is "Maison de France", a feature-length documentary built around the lone victim of one of Illich Ramirez Sánchez's (Carlos') bombings. The young victim, a West German peace activist, was in the titular building seeking to present French officials with a petition protesting their country's nuclear activities. Instead, he suffocated in the debris as the bomb brought down the structure.
We learn about the victim's life, meet his still-grieving family. Sánchez's ex-wife shows up near the end, explaining that Carlos loves young people and would be saddened to hear of the death … but of course the cause comes first.
The cause. One of the takeaways from Assayas' "Carlos" is that the terrorist's main cause turned out to be himself. "He became his own agenda," says lead actor Edgar Ramírez, who does amazing work as Sánchez. One collaborator describes Carlos as heavily perfumed, powdered and eager to please the media. Assayas demonstrates the terrorist's narcissism in a startling scene that shows Carlos fully naked, romancing a mirror. The ladies await — and the movie doesn't scrimp on the sex.
Born in Venezuela to a radicalized family, Sánchez attended university in Moscow, partying and soaking up the agitprop. Sánchez's first name, Illich, was taken from Lenin's middle name. Carlos was Sánchez's nom de guerre, bestowed by an Arab handler. The Jackal dub came later, after law officers found a copy of the Frederick Forsyth novel in one of Sánchez's lairs.
The movie "Carlos" catches up with the fledgling terrorist in London, as he attempts to kill an activist pro-Israeli tycoon with a puny pistol. The target survives, barely, but Sánchez succeeds in earning the full trust of a bloody and calculating PLO faction operating in Europe.
Sánchez puts himself on the map by lending support to Japanese Red Army "soldiers" during a botched hostage operation in the Hauge. Then it's on to the Jackal's revolutionary masterpiece — and the movie's most memorable hour — as Carlos and company take over a meeting of OPEC ministers in Vienna. Sánchez kills one hostage, buddies up to some of the others and ultimately betrays his conspirators by cutting a side deal with Saudi Arabia and Iraq that makes him filthy rich. Soon enough, Carlos becomes global enemy No. 1, a terrorist pop star.
French director and co-writer Assayas ("Summer Hours") said he hesitated to take the project when offered. "I was not sure I wanted that kind of darkness in my life," he says in a 43-minute high-def interview filmed by Criterion. Things worked out, he says in excellent English, because Ramírez and the other actors took on all that karma.
The project was drawn up as a French TV miniseries, but "in the back of my mind it was never TV," Assayas says. "I hated the idea of this (just) ending on TV."
He shot the movie in 'Scope, using long lenses to produce images that are far from broadcast-friendly. Criterion's HD images are easily up to task of unveiling the artistry of Assayas and his two cinematographers. The movie looks terrific.
There were 120 speaking roles, with the production shooting across Europe, primarily in France, as well as in Lebanon. Characters mostly spoke in their native languages; the multilingual star puts his skills to good use. Criterion's subtitles are spot-on and free of obvious errors, as usual.
The home video's audio delivers clear and crisp dialog, when it's supposed to.
Assayas says he struggled with music, rejecting period songs. Instead, he went with "mechanical" punk-influenced songs and no score. (Criterion wisely uses the lone Los Lobos song to keep its menu classy.) Assayas wanted to use the work of the alternative band the Feelies (also a favorite of Jonathan Demme), but the musicians wanted no connection whatsoever with "terrorist activities." Wire took their place.
Other extras in Criterion's presentation of "Carlos" include a lengthy interview with one of Sánchez's German henchmen ("I do not feel guilty. I am guilty") and a fine documentary about Carlos' terrorist career. Most events depicted in the film are expanded upon in the interviews and docus. The box set proves educational — a survey class of Euro terrorism and left-wing fervor.
There are also an interview with Denis Lenoir, one of the two cinematographers, and a handsome booklet with several essays and a timeline. No commentary.
Check out Glenn Abel on Google+