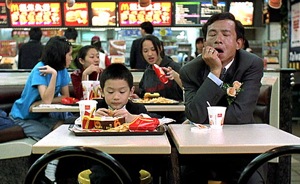 The Criterion Collection came to the rescue of "Yi Yi" in 2007, vastly improving on what by all accounts was a botched 2001 release by Fox Lorber video.
Now, the cineaste label is back with a Blu-ray version of "Yi Yi," Taiwanese filmmaker Edward Yang's wonderful movie about childhood and family.
The domestic epic is built around three milestones in a modern middle-class family's life: a wedding, a birth and a funeral. "Yi Yi" picked up a swarm of awards upon release in 2000, including best picture from the National Society of Film Critics and best director at the Cannes film fest.
In the U.S., the title refers to the jazz musician's countdown "A one and a two … " but in Asia the title signaled "one one," a reflection of the characters' solitary paths inside and outside the family. Both make sense — this is a rich and satisfying work with many plot lines and many possible interpretations. (I saw it in part as a film about the premature end of a boy's childhood.)
Yang used walls, hallways and glass windows to frame his scenes, bringing to mind Antonioni and the serious Woody Allen. The characters fuss about and pace in and out of view while the camera stands its ground. "Yi Yi" speaks of alienation, dysfunctional families and the pools of madness below the surface of urban life, but can be downright funny. Ultimately it's a warm and life-affirming movie.
At almost 3 hours, "Yi Yi" is not for impatient viewers, however.
The Blu-ray upgrade doesn't disappoint, even though the first Criterion "Yi Yi" DVD rendered beautiful images. The film's 2.0 audio has been expanded to DTS-HD Master Audio, with modest separation. The sound gets a slight but noticeable improvement.
Yang and his friend Tony Rayns, the film critic, did the low-key commentary in which they break down the key elements and themes. Yang died about the same time as the original Criterion DVD came out, so there was no opportunity to update the talk, of course.
In another extra, the film critic CliffsNotes the history of Taiwanese cinema, which he says essentially came to halt in the years before this film was made. "Yi Yi" was hailed worldwide, but ran into hard times while seeking distribution in Taiwan.
Kent Jones is the featured writer in the printed booklet.
Check out Glenn Abel on Google+