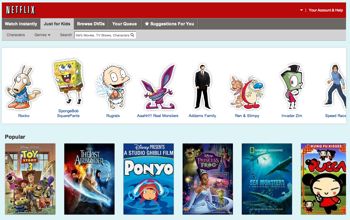 Netflix calls it "Just for Kids," but no doubt busy parents will appreciate the new feature as well.
Netflix just added a section for streaming video that segregates children's programming from the rest of the fare — so "Toy Story 3" isn't nestled up next to some dark and sexy anime title meant for the really big kids.
Just for Kids has a snappy design that allows children to click on icons of their favorite characters, instead of navigating the usual horizontal content rows. The characters are placed right on top, with a cast including Sponge Bob, Barney, Rugrats, Strawberry Shortcake and … Ren & Stimpy?
Netflix's blog says the kids zone offers "a world of movies and TV shows suitable for children 12 and under," but "The Ren & Stimpy Show" pushes that envelope plenty. In fact, the animated series is rated age 13 and up by the Common Sense Media ratings system used by Netflix.
A fine distinction between 12 and 13, but I wouldn't want my 4-year-old partying with Ren or Stimpy — amidst the smoking, savage beatings, gay inside jokes and all those nasty smelly boils & butts. Yeech. The Common Sense reviewer plainly noted the "nasty cat-and-dog duo isn't for little kids."
Bit of a slip there, but fear not: Everything else in the section looks appropriate. No doubt Netflix will get this borderline ani fare sorted out soon enough.
Back to the design: Below the character icons, the familiar Netflix horizontal genre displays include superheroes, princesses, dinosaurs and girl power.
For now, Just for Kids works only on for content streaming directly on the Netflix web site.
The children's section tab started appearing Aug. 16 for users in the U.S. and Canada. Netflix says to stand by for "with similar functionality to come on the Wii, iPad, Xbox, Playstation and many other devices over the next year."
Netflix said it clearly felt the need to offer a user-friendly safe harbor.
"Almost half of the 25 million Netflix members have instantly watched at least two movies or shows made for kids in the last 90 days."