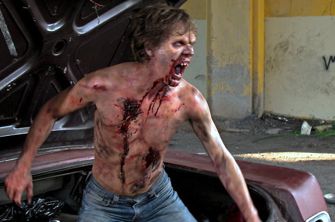 Draw a triangle. Use "The Road," "I Am Legend" and "28 Days Later" as corners. There, in the shadowy center, we find "Stake Land," a low-budget effort that's probably the best horror film of the year.
Post-apocalyptic movies overrun by the undead almost always fail to live up to their incredible premise, but "Stake Land" delivers on multiple fronts. It's intelligent, plenty gory and borderline humanistic.
Gloomy and atmospheric, the film isn't afraid to play long scenes without dialog. Its characters' moves actually make sense — as they go about the business of staying alive — a rarity in horror films. There's even some empathy for the undead, dumb creatures and victims themselves. The New York Times ranks among the fans of "Stake Land," marking it a "Critics' Pick."
The work of horror draws from several genres, notably westerns, biker films and coming-of-age movies.
Dark Sky Films has released "Stakeland" on Blu-ray and on DVD.
The indie film, from sophomore director Jim Mickle, reunites him with Nick Damici, the star and co-writer of their creature feature "Mulberry Street" and now "Stake Land."
Damici's "Mister" is a vampire hunter, one of the few still in action after the undead hordes overran the U.S. The cities are toast, but some rural Americans survived by turning their towns into "lockdowns." ("Less population, less vampires," we're told.)
One form of currency: vampire fangs. Mister has a nice collection. (The character was based on John Wayne's stoic manhunter in "The Searchers," Damici has said.)
Nothing elegant about these vampires — they're reminiscent of the brain-dead but fast-moving zombies from "28 Weeks Later." A stake in the heart gets the job done, eventually — bullets only hold them off. Decapitations do the trick as well. The vampires were deliberately choreographed to give them a unique way of moving. Bob Fosse would approve.
Mister, a moody loner, rescues a teenager from the vampire that just slaughtered the boy's family. Played by Connor Paolo ("Gossip Girl"), young Martin proves a quick study in killing "vamps." He narrates the movie from some not-too-distant future.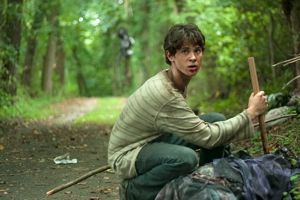 Mister and the boy head north toward the rumored New Eden, a place too cold for the vamps, they're told. The biblical theme continues with the presence of a fundamentalist cult that wages war on the "unbeliever" lockdowns by dropping captive undead into the towns using helicopters.
Mister and Martin rescue a nun who's being raped by cult members. The nun, remarkably, is played by Kelly McGillis of "Witness" fame.
McGillis turns in an inspiring performance, particularly for someone who supposedly never watched a horror film.
Director Mickle says in a DVD commentary that it'll always be a mystery why McGillis agreed to make his "wacked-out film." One reason: she lived near the shoot in Pennsylvania.
"Stake Land," which played only a few theatrical engagements last spring, wasn't supposed to be a film at all. It started life as a series of planned webisodes that "celebrated vampires of all kinds." The post-apocalyptic bit was added later.
The film was shot in two parts, in order to use the change of seasons (and maybe hustle up some more resources). During the two-month production gap, Damici did a heavy rewrite on the remaining scenes. (The McGillis character was written in during production. The suits wanted a "name" actor.)
Mickle and Damici say they were able to make a low-budget indie that looks like studio fare by drawing on the talents of some of their "overqualified" friends who've gone on to bigger things: "We're still operating as if we're students."
The single-disc Blu-ray from Dark Sky Films looks and sounds good. Dialog (and growls and screams) come through loud and clear. The audio mix makes active use of the Dolby Digital 5.1 soundstage, pumping up the out-of-nowhere scares. The original music, a big part of the film, sounds smooth and feels immmersive. (Dark Sky also released a regular DVD and a collectors DVD.)
The "Stake Land" extra features (on the Blu-ray and expanded DVD) are made with care, reflecting the movie's tone and intelligence.
There are two feature-length commentaries that focus on location filming — the gang includes Mickle and Damici, teen actor Paolo, several producers, music man Jeff Grace and cinematographer Ryan Samul.
An hour-long making-of documentary wordlessly follows the cast and crew on location in Pennsylvania and New York; a few interviews with the filmmakers pop up halfway through. There also are video diaries and a Q&A from the Toronto Film Festival. Viewers interested in low-budget filmmaking should find all of this fascinating.
The most interesting extras are seven short-film prequels for each of the main characters. They save the best for last, as Mister pays a fateful visit to his shell-shocked dad.
Fans will want to see these short profiles, but all in all they don't add much. Consider letting "Stake Land" speak for itself. At least until the sequel rolls out.
Check out Glenn Abel on Google+