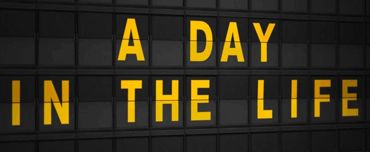 Offbeat documentary maker Morgan Spurlock goes exclusive with Hulu for a six-part series titled "A Day in the Life." It debuts Aug. 17.
The Spurlock show is Hulu's first long-form original program. It will stream on Hulu and Hulu Plus, meaning free for all viewers. New half-hour episodes roll out on Wednesdays.
Each episode focuses on the day in the life of an "intensely driven" person — so far mostly entertainers.
"The goal for 'A Day in the Life' was to make it as diverse as possible," says Spurlock ("Super Size Me"). "I wanted to make sure we had people from all different walks of life."
The filmmaker said the only thing missing is "a regular Joe" — a gap he hopes to fill via input from viewers.
The series begins with Richard Branson, surely one of the busiest beings on the planet — a man who who builds spacecraft when he's not running his 300-some corporations. "I think there's an openness to him that was surprising and great to see."
Other subjects are comic Russell Peters ("mega, he's huge"), hip-hop artist Will.I.am ("a brilliant businessman") and digital musician Girl Talk ("magic").
Of Hulu, Spurlock says, "They're not afraid to take risks and they've been an amazing distribution partner on all our films. …
"This is a 'network' now that matches millions and millions of people. … "It represents this next step of convergence. … The real transition of entertainment into (the Internet age)."
Hulu content developer Charlotte Koh blogged that the Spurlock docu series "is the beginning of a new Hulu initiative designed to support creatively and financially the work of independent storytellers."