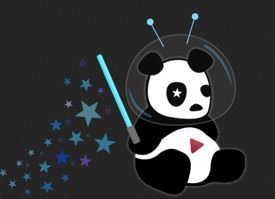 YouTube has transformed itself — for a while, anyway — with an optional redesign dubbed Cosmic Panda.
Users of the uber online video site are invited to check out the new look via this redesign portal. It'll affect most of your YouTube pages until you change back.
The channel pages look a lot better, but the most dramatic and most welcome change, to me, is the video display. The Cosmic Panda offers a video set-up similar to Hulu's, with a dark background. (Some people no doubt will prefer the old white background.) There are boxes bottom right of the player section that seamlessly increase the size of the screen.
View the new and old video player designs below.
YouTube's usual strip of images/links for related videos have been moved below the screen area. The sidebar images are less distracting, putting the spotlight on the video in play. The sidebar images are significantly enlarged, with the title placed below, instead of to the right side.
There's also a scrolling "YouTube mix" for the current video's main tag.
YouTube's blog notes that the team will be "making changes to the experiment regularly," encouraging viewers to continue the dialog via the feedback button. I tried to leave feedback via the display page, but a pop-up advised that wasn't going to happen. I left it on the homepage. (text continues)
Panda design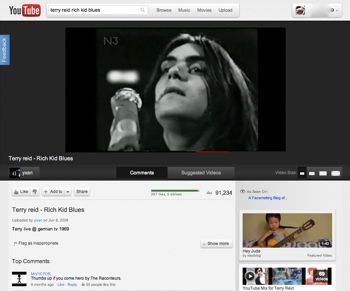 Existing design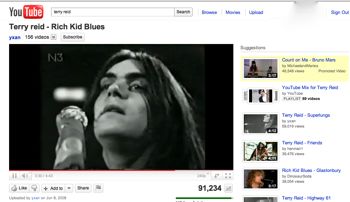 Here's what YouTube promises "when you follow the cosmic panda over the double rainbow":
A new experience for watching videos and playlists
More page designs and better editing tools to customize your channel
Keep watching when moving between videos, playlists, and channels (Chrome only)
Stylish new look and feel
Note to the SEO savvy: Most likely the name is a nod to Google's much-discussed Panda update to its search algorithm.
Channel browsing page (new)