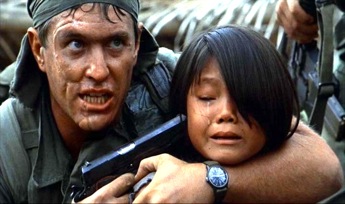 MGM has redeployed Oliver Stone's "Platoon" in a Blu-ray edition that marks the movie's debut in high def and its 25th anniversary.
The Vietnam War film — released at Christmas 1986 — has been followed by a host of Vietnam War films, but remains in the upper tier because of its strong young cast, terse storytelling and claustrophobic scenes of jungle combat in the wet, humid fog of war.
"Platoon's" original low-budget look has been spit-shined on previous video reissues, and of course the Blu-ray presents more improvements — none overly dramatic but satisfying. Nighttime jungle sequences creep onto the screen with dramatic contrast while daytime scenes startle with vibrant greens.
Still half-stepping is the audio mix, in 5.1 DTS-HD Master Audio. "Platoon" videos have been traditionally stingy in doling out surround information. Entire chapters roll by without use of the rear speakers, giving the effects an undue emphasis when they finally do kick in. Regardless, the lossless audio is an improvement over all that's come before on this title.
When it comes to extra features, the 25th anniversary edition is a call-up of the materials on the 20th year DVD release, but they left off the excellent hourlong making-of documentary "Tour of the Inferno." That's what the GIs call a SNAFU.
Some of the extras on the "Platoon" Blu-ray, such as the commentaries, date back to the amazing Pioneer Special Edition laserdisc of 1995.* Stone's commentaries are always worth a listen, and this one is more personal than usual.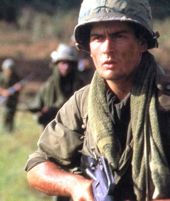 Having served in the Army during Vietnam, I'm still amazed by the film's attention to detail in depicting the Army grunt's day-to-day soldiering and partying. Of course, Stone knew what was what, being a veteran of that "police action" in the 'Nam.
"Platoon" suffers from a ridiculous action-picture ending, but then the same could be said of (the far superior) "Apocalypse Now."
The "Platoon" Blu-ray's documentaries remind viewers that most people were sick of Vietnam in the 1980s and didn't want to see movies from that crummy war. At least that's what the Hollywood suits thought. Stone notes that his film was made, in part, because of "Rambo" and the Reagan-era embrace of the military and their toys.
The men of "Platoon" have in many cases gone on to significant acting careers, but only Tom Berenger was working steadily in film when Stone recruited them. The cast includes Charlie Sheen, Willem Dafoe, Johnny Depp, Forest Whitaker, John C. McGinley and Keith David. Stone recalls, "I knew these kids were hot."
Depp and Dafoe, in particular, seemed changed by the experience of making "Platoon" — preceded by a two-week intensive "boot camp" in the Philippines conducted by Stone's military adviser, Capt. Dale Dye. "We were all starving to death," Depp says of getting by on K-rations while maintaining a brutal training pace.
Dafoe tells how "the stakes got very high" due to the peer pressure of making it in Stone's army and of everyday danger in the jungle. Adding to the stress was the real-life overthrow of the Filipino government, which occurred as filming started.
Stone used employed guerrilla filmmaking techniques to get the job done on a tight budget, with his young stars humping equipment and the crew doing as many as 55 setups a day. Stone, meanwhile, was flashing on his past as a Viet vet. "I could see him going back," says Sheen, who played the director's alter-ego, Chris. "I thought he was a madman," another actor says.
The 25th anniversary "Platoon" Blu-ray features separate commentaries by Stone and the military adviser, Dale Dye, that combined run for almost five hours. Dye tells of his intimidating techniques for initiating Stone's city-kid actors in "the psychology of being a grunt," while Stone ties together his real-life experiences in the jungle with the events unfolding onscreen.
Also arriving in time for Father's Day is 20th Century Fox's Blu-ray version of "Tigerland," an offbeat movie about training for Vietnam in the suffocating swamps of Louisiana. Colin Farrell stars as the reluctant hero and Joel Schumacher directs.
Two other good Vietnam movies don't get much play these days but they're worth checking out: "Hamburger Hill" (stream it on Netflix) and "Go Tell the Spartans" (cheap DVD on Amazon).
Here are the extra features for MGM's 2011 Blu-ray of "Platoon":
Audio Commentary with Director Oliver Stone
Audio Commentary with Military Advisor Dale Dye
Deleted & Extended Scenes
Flashback to Platoon: Snapshot in Time, Creating the 'Nam, Raw Wounds: The Legacy of Platoon
Documentaries: One War, Many Stories, Preparing for 'Nam
Vignettes: Caputo & The 7th Fleet, Dye Training Method, Gordon Gekko
Television spots
Theatrical Trailer
* This time around, you're not paying $130, as with the lavish laser box set, but a mere $16, based on the Amazon price.
Check out Glenn Abel on Google+