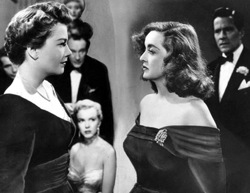 "All About Eve" continues to get better with age, thanks to a sleek and silvery Blu-ray presentation from Fox.
The queen of backstage dramas makes its high-definition bow via a hardback "Blu-ray book" package that Fox bills as a limited edition.
A 24-page booklet takes a quick look at star Bette Davis and writer-director Joseph Mankiewicz. Also featured from the dream-team ensemble are Anne Baxter, (Oscar winner) George Sanders and Marilyn Monroe (whose star power pushed out poor Celeste Holm).
The disc's (1.33:1) visuals rank with the best Blu-ray renderings of black-and-white films. Free of wear and blessed with artful dramatic contrasts, Fox's HD presentation deserves a standing-O. Audio options are DTS-HD Master Audio 5.1 and mono, both crisp and clear, but with intermittent hiss.
The "All About Eve" Blu-ray's
extra features — a pair of commentaries, an AMC "Backstory," Movietone News shorts — will be familiar to owners of the 2003 special edition DVD, but there are a few key additions.
Two pieces look at the life and works of writer-director Mankiewicz, the man behind all that crackling dialog. Alfred Newman takes a bow with his score isolated on one track.
One 20-minute short examines the real-life story behind the story, of one-time star Elisabeth Bergner and the hanger-on who inspired the Eve character. The short climaxes with a creepy confrontation between the two women, taped decades after the fact.
Another short extra unveils "The Secret of Sarah Siddon," about a copycat theatrical award established in Chicago after "Eve" premiered in 1950. The award was inspired by the fictional trophy in the movie and the real-life 18th century actress Siddon, a specialist in Lady Macbeth. (Come to think of it, Lady M would have loved "All About Eve.")
Check out Glenn Abel on Google+